CAME Gold Partners
With over 15 years experience we are proud to be qualified as one of the first companies in the UK credited with Gold Partner Approved Installer Status. This ensures we are officially registered for the installation and periodic maintenance of all CAME gate automation equipment and safety control accessories.
The Approved Gold Installer network is controlled and administered by CAME UK, sister company to CAME Spa, Treviso, Italy. CAME UK provides assurance of quality installations and customer service through the Approved Installer Network.
All installations meet the current European Safety Standards and Building Regulations under the Machinery Directive 98/37/EC.
How do our automation systems work?
A full set of safety devices control the safety of the system. Any vehicles or pedestrians detected within the swing area of a gate signals the mechanism to stop and re-open, preventing accidental closure. In the event of a power failure, gate(s) can be simply unlocked with the keys provided and manually opened to allow access. The 24 Volt system also offers a battery back-up, so the gates can continue with uninterrupted operation during a power failure.
You can find brief descriptions and pictures of some of the equipment we install below. Alternatively, visit the main CAME website or view the PDF brochures for the relevant Operator.
Solar Gate Automation Systems
We are pleased to be one of the first UK companies to offer reliable solar powered automation systems.
These are ideal for areas where a mains supply is not available, allowing security to be fitted to even the most remote locations.
Each gate is rated to operate on the shortest day of the year. This takes into account the latitude of the site, the number of operations per day and the access control accessories required for the gate.
These systems are suitable for gates or barriers opening up to 500 times per day. Systems with heavier use can combine solar and wind power to harness multiple forms of green energy. With our systems, we protect and secure ANY property.
Swing Gate Operators
Frog – Underground Gate Operator
As its name implies, this superb and much-copied gate machanism is designed to operate in damp, below-ground conditions. It is the most popular machine with the discerning customer, who not only wants a long lasting reliable gate machine, but also doesn't want to see any type of armature attached to the inside of the gates.
Frog J – Underground Gate Operator
The Frog J Underground Operator can be installed even without prior fittings or masonry work. All that's required is 85 mm for positioning. This revolutionary system blends aesthetic value with CAME's technological advances.
FERNI – Articulated Arm Gate Operator
The Ferni Articulated Arm Gate Operator is designed to automate gates hung from large brick or stone pillars. The Ferni can be operated by all the standard Came accessories, eg. remote controls, push buttons, keypads etc.
FAST – Articulated Arm Gate Operator
The Fast Articulated Arm Gate Operator is designed to automate small gates that are hung from any type of pillars or posts. The new Fast kits are the easiest and quickest to install gate operators in the Came range.
Amico – Above Ground Operator for Swing Gates
Amico is a safe, innovative operator with an extra touch: its force level is 'encoder controlled'. Coupled with the ZL90 Control Panel, this makes it possible to install systems compliant with European standards concerning the maximum impact forces generated by gate movement.
Axo – External Operator for Swing Gates
The gear motor in the Axo system has die-cast aluminium bearing semi-shells for unrivalled quality and silent running. Axo is equipped with adjustable mechanical stops to offer gate run presets. The innovative 230 Volt technology gives very efficient and simple control of slow gate movements.The Axo is also available in a 24 Volt version with a simplified connection system. This installs with only a single three-wired cable.
Sliding Gate Operators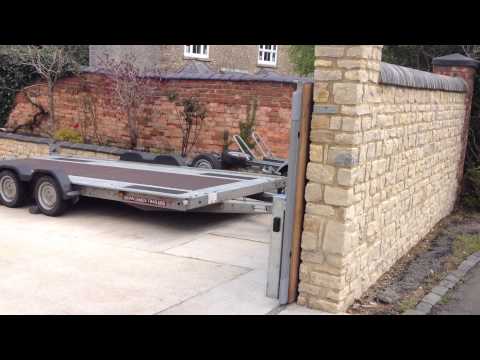 BX – BK Sliding Gate Systems
If you have limited space in an entrance, an electric sliding gate is the ideal solution, taking up very little room.
PDF Brochure – BX
PDF Brochure – BK
Garage Doors
Ver – for Garage Doors
This 'traction' type automation system is powerful yet versatile. It perfectly adapts to the majority of modern garage doors. Ver comes complete with a courtesy light and perfectly integrates with your existing door. As electrical appliances go, it is powerful yet simple to use, in line with CAME tradition.